تفسیر عروۃ الوثقیٰ (از عبد الکریم اثری) کا تنقیدی مطالعہ
Critical Study of Tafseer Urwa-tul-Wusqa by Abdul Karim Asri
Keywords:
Usloob e tafseer, Naskh o Mansookh, People of the book (Ahl e Kitab) and Surah Abasa.
Abstract
Islam covers all the aspects of life either it is related to social, political, economic, or personal matters. It interprets and demonstrate all solutions verbally and practically. There are many famous personalities who left no stone unturned to work on Quranic tafseer. Among all those personalities who were born in the subcontinent which are also known for their distinctive attributes, made continuous hard work to enhance positivity towards Islam and inspire no religious people. Hence, it is difficult to find one of an exemplary character among all those personalities. When Qur'anic interpretations are discussed, the highlighted work of the most prominent personality who also influenced people religiously name of "Maulana Abdul Karim Asri" appears. He is remembered for his precious work related to the Holy Qur'an. He spent his whole life in the study of the Holy Qur'an and its interpretation. He is one of the sole sources of spreading Qur'anic education in public. Although, there are many aspects of his Tafseer(Tafsir Urwa-Tul-Wusqa) yet, the main feature is "Raai". The Tafsir incorporates the ideology of Sir Syed Ahmad Khan and Ghulam Ahmed Pervez to blend traditional thought with modernization. He demanded Muslims scholars to adopt a difference route and think about lot of issues in this way.  Islamic research Furthermore, Maulana includes lughat, ahadiths and opinion (Raai) in his Tafseer. Here some of the Tafseeri characteristics of his Tafseer will be discussed.
Key words: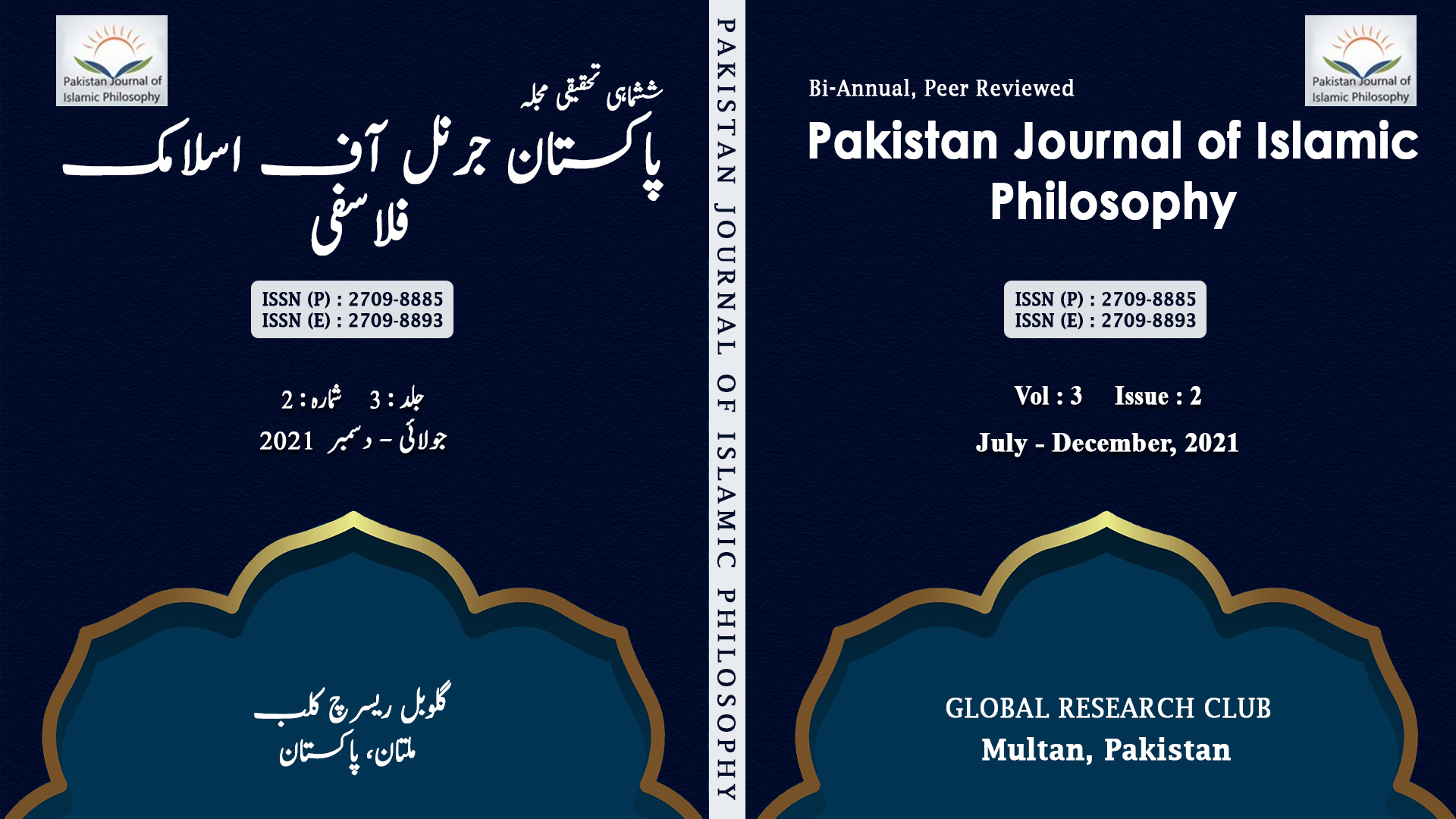 Downloads
How to Cite
Raza, A. A., Hanif, D. M. Z., & Rasool, D. H. F. (2021). تفسیر عروۃ الوثقیٰ (از عبد الکریم اثری) کا تنقیدی مطالعہ: Critical Study of Tafseer Urwa-tul-Wusqa by Abdul Karim Asri. Pakistan Journal of Islamic Philosophy, 3(2), 237-249. Retrieved from https://pakjip.com/index.php/pjip/article/view/147
License
Copyright (c) 2022 Hafiz Faiz Rasool, Dr. Muhammad Zohaib Hanif, Dr. Hafiz Faiz Rasool, Dr. Hafiz Faiz Rasool
This work is licensed under a Creative Commons Attribution-ShareAlike 4.0 International License.