پا کستانی معا شرہ میں اسلامی تہذیب و تمدن کا احیا ء: سیرت ِطیبہ کی رو شنی میں تجزیا تی مطا لعہ
The revival of Islamic civilization in Pakistani Society Analytical studies in the light of Sira-e-Taiba
Keywords:
Forms of revival of Islamic civilization in Pakistani society
Abstract
Islamic civilization is one of the universal civilizations which has its own distinguished principles and strong foundations, laid upon the goodness and prosperity .For Centuries the Muslim-Ummah has been ruling all over the Known  world due to its  academic excellence ,statesmanship ,economic aspects and military power. After 17th century, the Muslim Ummah gradually  started moving towards its decline. On the other side .the western civilization captured the horizon of the world .it was the beginning of the 19th century when the Muslim around the world  went influence undor the western civilization the values and tradition of Islamic civilization were considered as hackneyed both mentally and practically in Turkey ,due  to the impact  of Ataturk and in the sub-continent due to the influence of English imperialism ,the Muslims started to imitate western civilization in the dress, food dialect values and was of  living etc .western values and tradition became benchmark of  decency  and courtesy. in the contemporary era, modern man of communication have played a negative role in this respect.TV dramas and commercials have made female-sex only a show piece.Eastren tradition are openly criticized  On the  other hand ,Islam teaches its followers a life based  on decency and discipline  in all the walks of life  under Sirat Al-abi (SAW)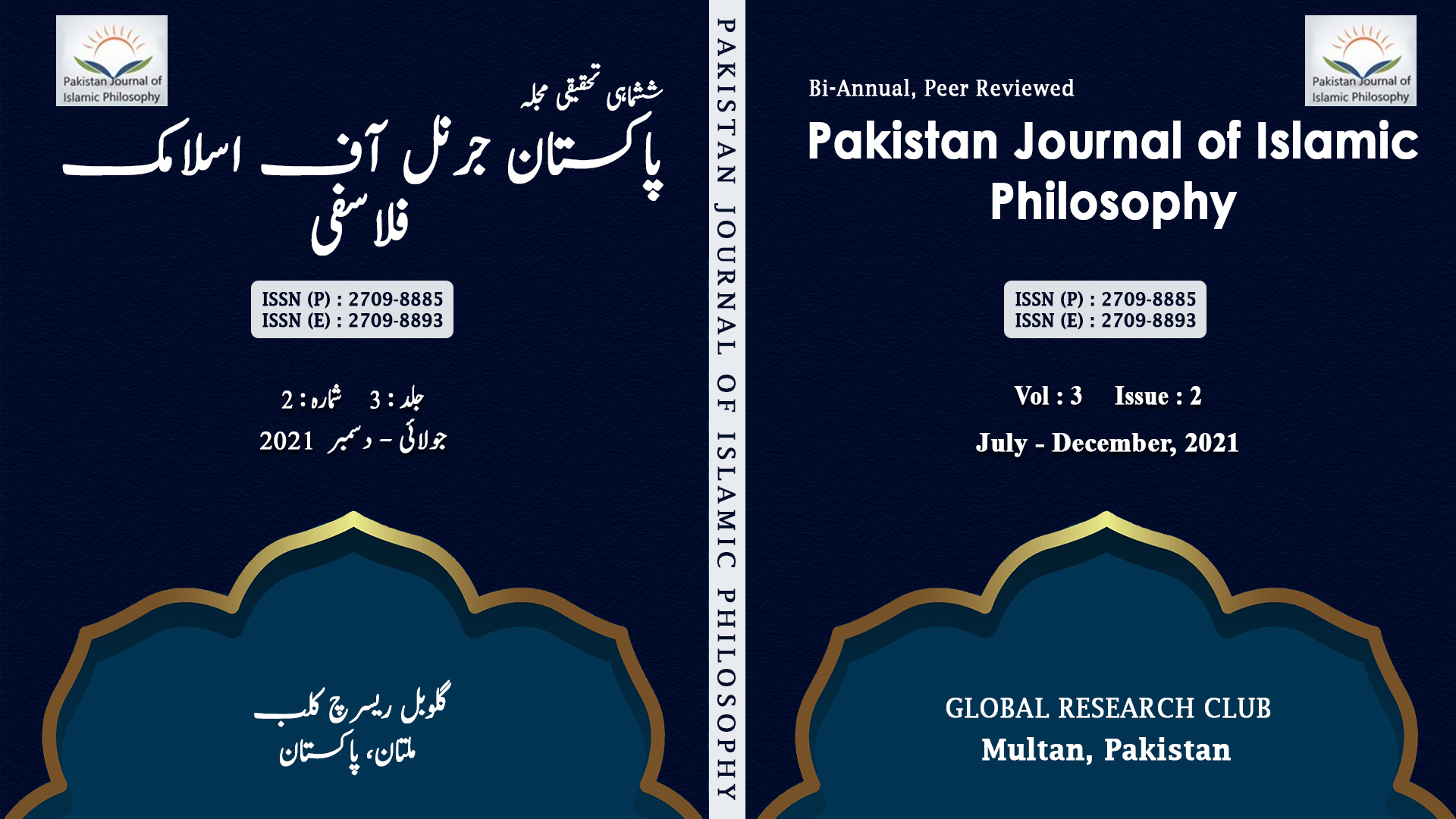 Downloads
How to Cite
Hafiz Jawaad Haseeb, Dr. Syed Muhammad Shahid Tirmizi, & Dr. Hafiz Jamshed Akhtar. (2021). پا کستانی معا شرہ میں اسلامی تہذیب و تمدن کا احیا ء: سیرت ِطیبہ کی رو شنی میں تجزیا تی مطا لعہ: The revival of Islamic civilization in Pakistani Society Analytical studies in the light of Sira-e-Taiba. Pakistan Journal of Islamic Philosophy, 3(2), 15-29. Retrieved from https://pakjip.com/index.php/pjip/article/view/69
License
Copyright (c) 2021 Pakistan Journal of Islamic Philosophy
This work is licensed under a Creative Commons Attribution 4.0 International License.